Hello Everyone!
How are you all?  I hope you have enjoyed the sunny weather over half term and did lots of nice things like exercise and reading.  Today we are going to look at making paper cuts.  These are great to improve our scissor skills and you can make your work as simple or as complicated at you like.  With the paper cuts you can make concertina patterns that stand up or make colourful paper sheets and stick them to twine to decorate your house.
To start off I want to tell you about a lovely meeting I had with Laura Hussey who is the curator of the 575, Wandsworth Rd house.  A curator takes care of a museum or gallery and Laura does this lovingly and carefully at 575.  We met outside the house two weeks ago as I couldn't go in.  I have been in many times with children from Heathbrook and we talked about how to share the house with you at this tricky time.
This house looks rather drab from the road, it's not colourful or inviting to look at, but when you go inside it's like entering a fantastic new universe.  It was all the creation of one individual called Khadambi Asalache.  He was a polymath (that means a person of wide knowledge or learning).  He was so creative and a poet, a mathematician and an artist.  When he bought 575, it was a bit damp as it was next door to a laundrette so he tried to cover it using wood he found in a skip.  He carved the wood into beautiful shapes called fretwork.  Once he started he couldn't stop! Click on the link below to find out more about the house.  Laura is very keen to invite families to view some rooms of the house via Zoom.  If you would like to do that then please email her at Laura.Hussey@nationaltrust.org.uk as she would love to hear from you and give you a tour.
.
So back to paper cuts.  Laura sent me some that she has done based around the fretwork in the house.
Click on the link above to see when the house was on the BBC news.
Paper Picado from Mexico!
I got this idea from the website Deep Space Sparkle.   It's a lovely simple idea, use tissue paper or sugar paper and then tape onto some string.  Hang them up and have your own fiesta, tomorrow is Taco Tuesday!  Why not decorate your living room and have a Mexican evening, dress up, play some Mexican music and practise your Spanish!
st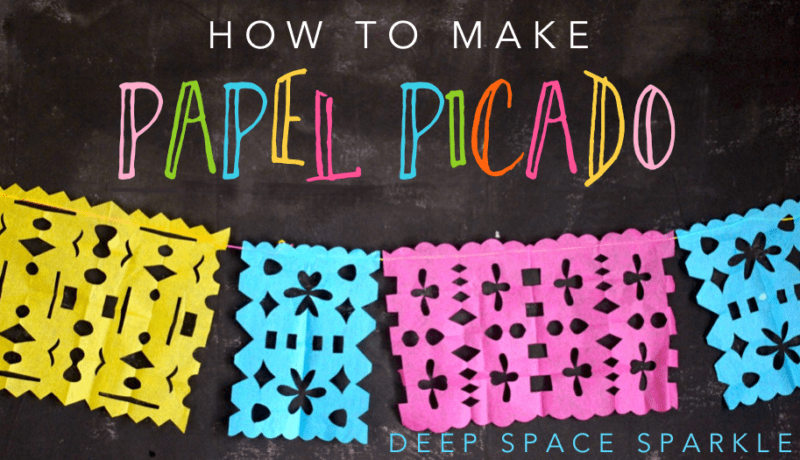 Make your own leatherback turtle
Click on the above link to make a beautiful moving puppet.  Marianne Grove will talk you through how to make one using simple materials.
This is a more advanced project suitable for years 5 and 6 if they are up for a challenge or any age really as long as they have an adult to help them.  My dear friends Marianne and Winnie run a circus company called Circo Rum Ba Ba.  As they cannot perform because of the pandemic they are putting ideas online.  Marianne is an acrobat and also a fantastic artist and in this video she shows you how to make a leatherback turtle puppet.  I would love you to have a go and share your results with me!
I hope you enjoyed finding out about Khadambi and meeting Marianne!  Happy crafting everyone,  I love your art work so I simply cannot wait to see what you make.
Sunny Wishes,
Mrs Frost